Spring in New York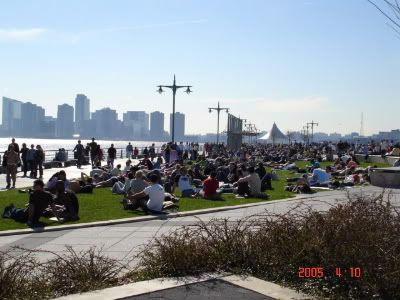 New Yorkers enjoying their first weekend of warm weather at Pier 45 near Chelsea



It felt as if spring sprung out of nowhere this last week. After months of cold, lousy weather, we had almost one full week of heavy rain. After the rain finally ended, so did the cold temperatures.

Add to that my new camera arrived in the mail and you can understand why I am in good spirits. My new toy is so damn sexy I can't stop playing with it (that sounds kind of kinky but I'm sure you know what its like when you get a new gadget, nothing else matters).

The only problem, as with all newer models of cameras of course, is that this one has more functions and buttons than I need. Nevertheless because its my gadget of the moment, I plan to read the entire manual. Whether I remember it all is another matter.

As I mentioned in my earlier post, I plan to take more pictures when I'm out and about. There have been many great photo opportunites that I've missed, and I don't know how much longer we'll be in New York for. So there is no time to start my online photo journal like the present.

Saturday night we headed over to the East Village for a late bite to eat. Natori at St Marks Place (8th Street) between First and Second Avenue is a tiny Japanese restaurant we've been to a few times before. The decor isn't anything to write home about and there are only six tables, but its roomy enough for diners not to feel too cramped. I would imagine this picture would make any sushi connoisseur cringe, but John had a little accident with the rice and the soy sauce.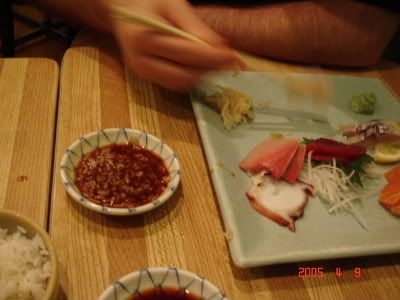 Ooops

We had a sandwich at home for lunch on Sunday before we went out for our usual stroll. We headed over to Chelsea and walked along the Hudson River. The area there is really nice as the piers are now part of the
Hudson River Park Trust
, so there are plenty of places to sit and people watch.

From there we headed over to Soho for some window shopping and more people watching. I had a feeling we'd be seeing someone famous, but alas that was not the case (my closest brush with fame was seeing Sarah Jessica Parker shooting a scene for Sex and the City, now that was cool!).

Soho has a great mix of quirky stores and trendy restaurants, which means it also tends to get a little touristy. It was quite busy around there today but its still worth walking around and taking it all in. The true sign that spring has finally arrived is that many of the restaurants have opened up their windows and doors for sidewalk tables, a perfect place to sit and to watch the world go by.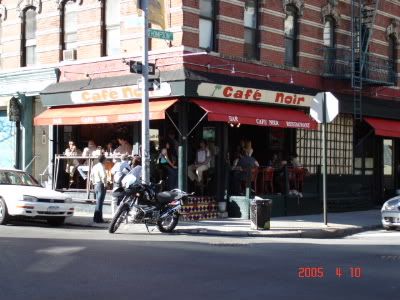 Funky cafe in Soho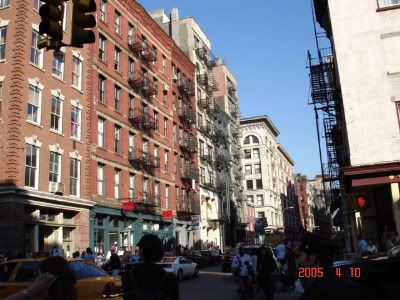 Prince Street - one of the main drags in Soho



With early evening coming, we stopped off at Cafe Dante on MacDougal Street for some gelato before heading home to mentally prepare for yet another week of work.