Sunday
Kicked off last Sunday with brunch at home before a nice walk in Central Park.



Chick Pea's poached egg with asparagus, proscuitto and truffle oil

I have yet to name this creation, though I did get my inspiration from
'inoteca
in the Lower East Side, a lively Italian restaurant serving various kinds of tramezzini, panini and bruschetta. We were there a few weeks ago and I had this wonderful truffled egg toast - a thick slice of toast with an egg in the middle, covered in yummy melted cheese and a drizzle of truffle oil.

Poaching eggs isn't as hard as I thought it would be. All it took was just a skillet with about 2 inches of water. Wait for the water to boil, bring it down to a simmer and plonk the egg in. Give it a few seconds for the egg white to form and then you swirl the water a bit to give the egg white a nice shape and 5 to 6 minutess later, voila, a perfectly poached egg.
After this filling meal we set off for a walk around Central Park. The weather here is still quite brisk but it was nice to get some fresh air after being couped up in the apartment all morning.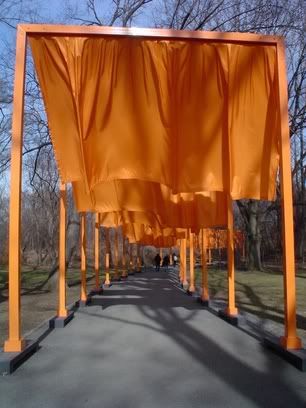 The Gates is an exhibition that has been showing in Central Park for about 2 weeks now. Unfortunately I haven't had a chance to read up on it but seeing it in the Park was spectacular. Over 5,000 brightly coloured saffron "gates" were laid out on the footpaths around the Park. It certainly brightened up the grey drabness of winter. Makes me look forward to spring, which is hopefully just around the corner...