Brooklyn on a Sunday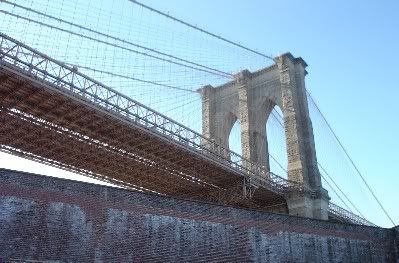 This was taken last Sunday when we went for a walk around Brooklyn. The weather was really nice and it wasn't too cold. We went to an area called Dumbo which is under the Brooklyn Bridge. I think it stands for Down Under the Manhattan Bridge Overpass - hmmm...sounds kind of drab but hey.

I thought this picture is pretty cool. You normally don't see it from this angle as you're generally either on the bridge itself or seeing it from a distance. We were standing inside the remnants of an old warehouse that is now part of a national park right on the water.
We started off having brunch in a lovely place called 5 Front. I had eggs benedict with proscuitto and John had the heuvos rancheros which was great as well (but I think I won!). Then we set off on our walk. We went around the base of the bridge - you couldn't go directly underneath it for some reason. Then we wandered into Vinegar Hill, which is an area with big warehouse type lofts. We saw a lot of murals and sculptures on around so we're guessing a lot of artists live in the neighbourhood.
Anyway enough babble. Its 2am!! I'm going to be a load of fun at work tomorrow, thank God its Friday!!!