Yesss!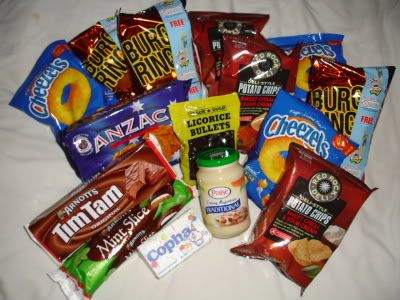 My order from
Simply Oz
finally arrived today! It felt like Christmas as I was opening the well sealed brown box, each item carefully bundled in its own bubble wrap. It was like a slow tease pulling each item out one by one, wondering what surprise would be next! Yes, I know I'm probably exaggerating, but after craving these foods for so long, holding them in my hands was like hugging a long lost cousin. Well, not exactly but you know what I mean :)

After I took everything out of the box I just had to take a picture of course. John merely rolled his eyes as I carefully arranged the goodies for the photo. After taking ten different shots in different lighting and angles, I gave up and just stuck with using the flash on the camera. I was going to wait until day time to take a photo in natural light, but I can happily say that my taste buds couldn't wait until morning to sample the delights.

Mint Slice - mmmm its been too long, Cheezels - oh my GOD! I have seriously died and gone to heaven. The pièce de résistance obviously has to be the Praise mayonnaise, since I've been harping on about it for so long. I can eat buckets of this stuff, seriously.

I bought Copha (solidified coconut oil) as its been so long since I made chocolate crackles. I was craving them a while ago and was _this close_ to using vegetable shortening instead since they don't sell Copha in the US. Thankfully there are people out there as desperate as I am that have tried making them using shortening, and have posted their warnings about not using the stuff. Savoury chocolate crackles? No thanks!

Righto, time for some licorice bullets....